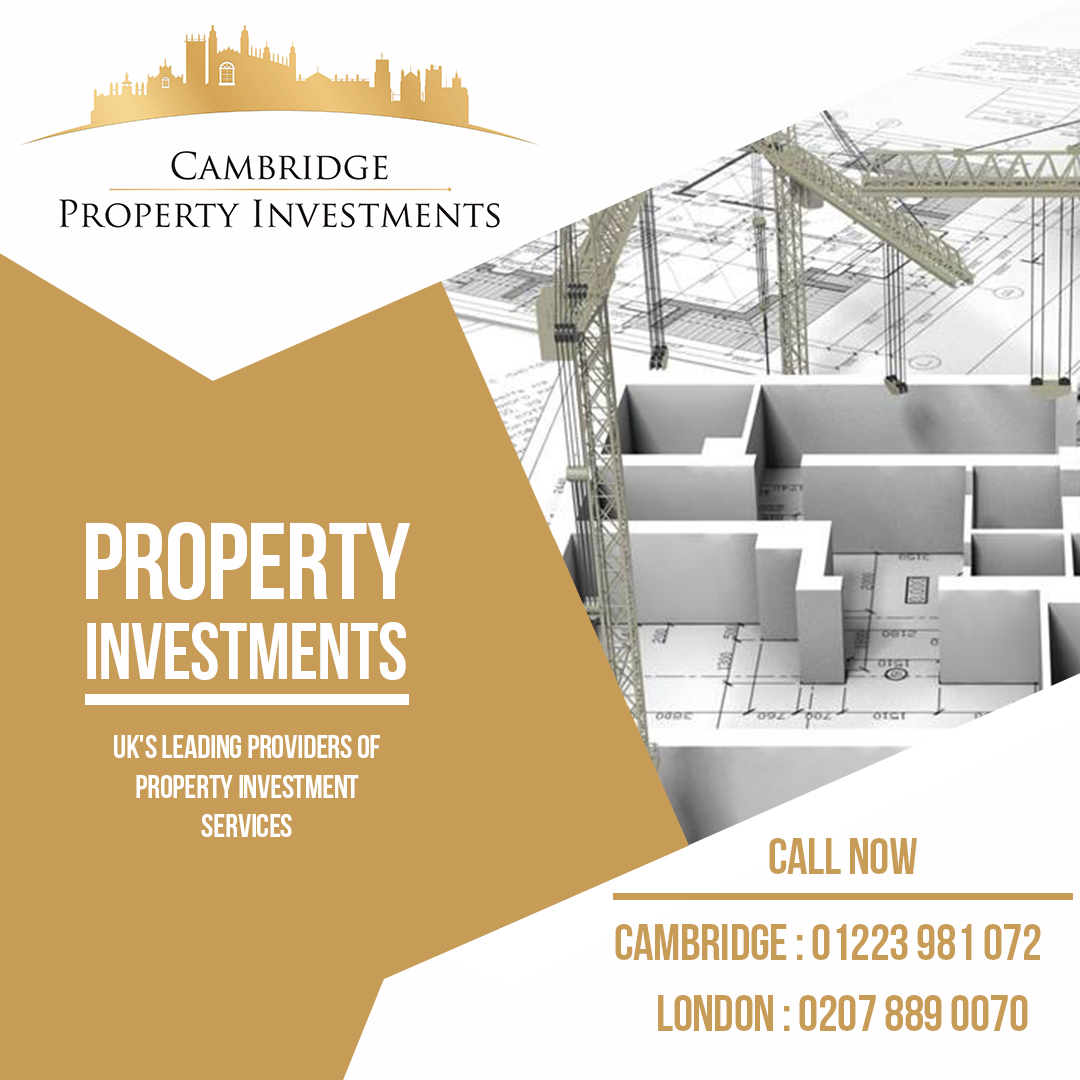 Property Investment in Cambridge:
As one of the UK's leading providers of property investment services, we look after residential and mixed-use developments direct from our office which is conveniently situated in Cambridge's city center. If you are looking to build on an existing property portfolio, move your property portfolio across to another agent or indeed start your own property portfolio then you have come to the right place. At Cambridge Property Investments ltd® we specialize in assisting investors to not only purchase the right investment but in enabling you to reach your maximum yield meaning that your investment will be looking after itself in no time at all with a little help from the best.
Property Investment from overseas:
At Cambridge Property Investments Ltd® we are helping more and more overseas investors place their money into property here in Cambridge, Not only do we provide vital information on choosing the correct property but we deal with the entire purchase, renovation, re-furnishing and letting process leaving you nothing to worry about what so ever, we do it all for you and all within a set fee and then an extremely competitive commission rate for letting upon completion, offering a price promise on our letting service. We have many landlords that place their entire portfolio in our hands resting assured that not only will be help them buy the right properties but that we manage them well for them too, Our communication is key and all of our landlords are fully informed at all times regarding every instance that occurs but without the worry of having to deal with any of them.
Working with investors:
At Cambridge Property Investments ltd® we work with investors from all corners of the planet making it easy and simple to invest in Cambridge's lucrative property market with the help of a face that you can trust, Often when investing especially if your living abroad its hard to know what the best option os for you and indeed who to trust, after all your plowing in a lot of hard earned cash, sometimes life savings and you need to know that your investments are safe and in good hands. Although we offer testimonials on our home page at C.P.I we believe its important for you to be able to talk to real life people so are happy to have our existing landlords give you a call, after all its a big decision for you so why do it with questions still in the back of your mind? Get those questions answered and feel comfortable with who you are dealing with. Once you are 100% happy that you will be working with the best then we will help you to get everything sorted and start you journey, or continue your journey together, offering help and assistance along the way - meaning you always know your next move is the right one.
Working together with Property Developers
We work closely with developers at each and every stage, and across every type of residential builds, including HMO's and high end apartments which we specialize in. We find that the Cambridge market thrives with HMO's and Apartments and we find that maximum yield can be reached with creating high end ones, not only do we find you the right one to purchase ensuring that it is situated in the best place to ensure minimum voids but we oversee the full refurbishment and refurnishing throughout - We use our very own team team of professional contractors and source all furnishing from companies that we deal regular with ensuring we obtain the best prices for the best furnishings.
Protecting your property investment:
We understand that as a landlord you need a managing agent who will provide you with complete peace of mind; peace of mind that your property is being professionally managed and in good repair at all times, and that all legal and financial requirements are being met. As property management specialists we are able to tailor our services according to your needs. We will look after the day to day issues as well as the long term ones, ensuring financial matters are in order and keeping you informed where ever and when ever is appropriate, keeping you up to speed without giving you the headache that comes with it.
Contact us now for FREE advice:
So if your looking to start a property portfolio, add to an existing property portfolio of indeed a landlord looking to move your property portfolio to another agent then you're in exactly the right place why not send me an email direct to my personal mail account mathew@cambridge-propertyinvestments.com where i'm ready and willing to help you start or progress with your journey - don't just go to anybody, go straight to the best!