Cambridge Community Charity is officially launched!
We're delighted to bring you this week's blog post about our brand new and innovative charity scheme we like to call C.C.C. We've spotted a missed opportunity especially within the property industry that we've taken upon ourselves to make a difference to the Cambridge Community.
Cambridge Property Investments bring you the greatest level of service for Cambridge Lettings. As a company with a number of accredited awards highlighting not only our professionalism and expertise but importantly that we care, with awards such as CSR World Leader and Green World to name a few. Our latest efforts and brand-new charity scheme 'Cambridge Community Charity' has been created to support our local community and a charity close to our hearts JOY – Jordie On You.
---
JOY – Firstly let's talk about JOY – Jordie On You, a family-run charity supporting kids suffering bereavement and raising vital awareness of mental health conditions. Started in 2017 in remembrance of Jordie Maltby, JOY is now into full motion raising every penny they can to help others. JOY is on a mission to raise necessary awareness for mental health and to help kids suffering from bereavement. One of there key targets to do this is by raising enough money to be able to purchase and maintain a holiday home offering family's a chance for some essential rest bite after losing a loved one. JOY is proud to have this goal in sight for the future but is not limited to just this focus, as a charity built from personal experience there is a constant drive to raise awareness and offer support in various forms for mental health. You can read all about JOY and find out plenty more over on their website by clicking here!
---
C.C.C – Cambridge Community Charity is our new innovative scheme to help our local community. What we like to refer to as C.C.C is our company efforts to help take a missed opportunity and use it to not only help the community but raise money and awareness for JOY. As a property company, we see an endless list of household appliances go to waste such as microwaves, kettles and so on. These are simply thrown away yet so many people could benefit from these items within our community. Cambridge Property Investments as part of C.C.C will now be keeping hold of any items left behind and unwanted or donated by our landlords and tenants, PAT testing these and then offering them to our local community for a small under market fee. This fee will then be donated to JOY or depending on what items we have may alternatively be donated to JOY to raise money themselves via auctions, there annual Abbey Garden Garage sales and so on. Ultimately taking donated or unwanted goods, using our own time and money to ensure they're tested and fit to be used and then offered to our community at a fraction of the usual price and then donated to a fantastic charity. This not only helps our community in need of items where they simply may not have the money for brand new ones and simultaneously helps JOY raise money to help make a huge difference to those suffering from mental health and kids suffering bereavement.
---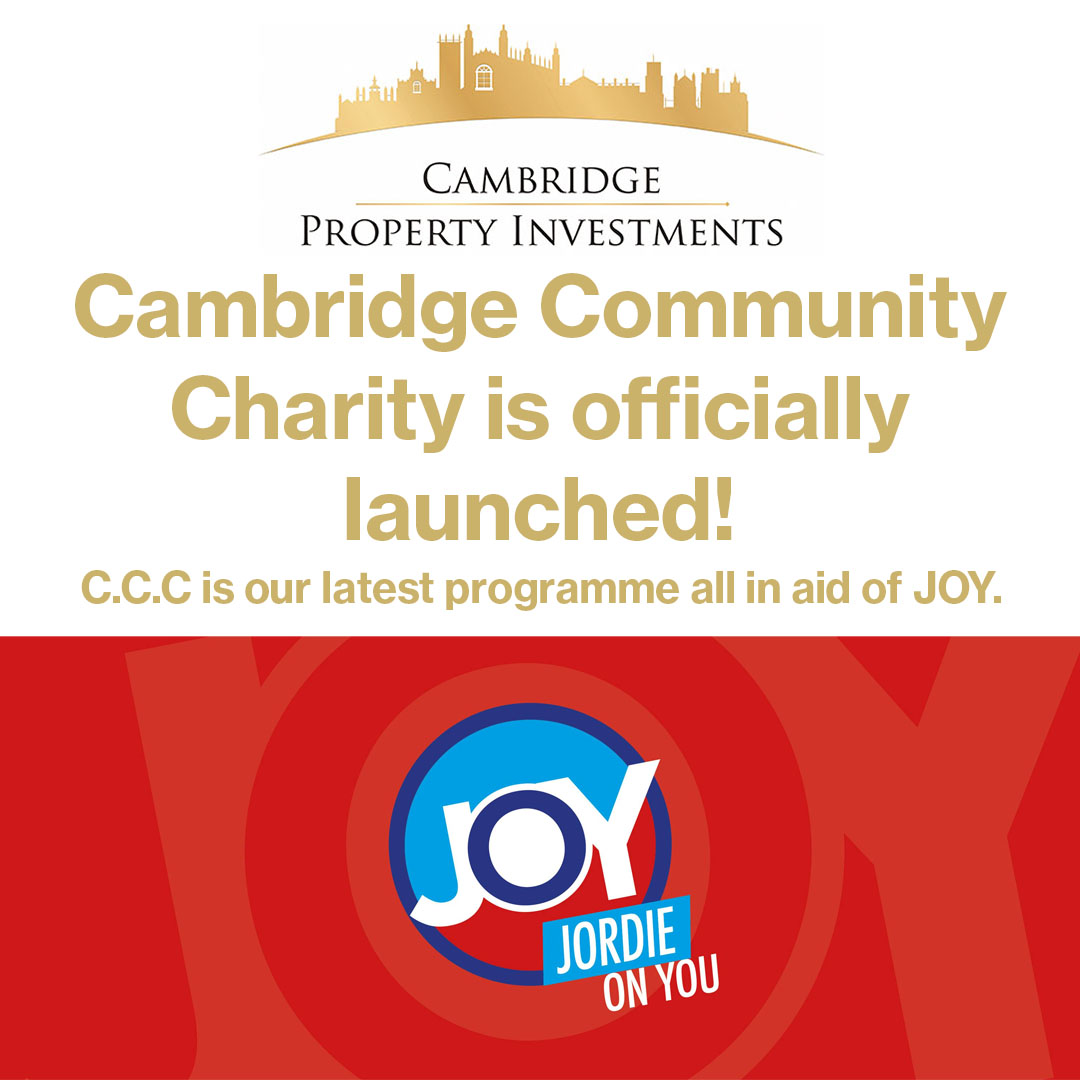 How you can help – If you're one of our landlords or tenants and have something you want to donate simply get in touch with us. We encourage both our landlords and tenants to contact us in advance if you have something you'd like to donate, we ask for advance notice where possible to ensure we can assist you every step of the way, this will include arranging the collection of the items.
We're extremely proud to launch C.C.C and see a huge opportunity to help the Cambridge Community we love and live in while raising vital awareness and supporting our dedicated charity JOY.
You can read all about us and what we do by clicking here.
Alternatively, over lockdown, we've found utilising our daily lockdown walk to be a huge factor in sustaining a happy mind and our mental health within the company and surrounding families. We've already launched 2 walking blogs designed to give you places to venture out to and encourage walking, which we've found to be tremendous in keeping us going during these times.